The worlds smallest and lightest GPS cat collar is now available from PawTrax.co.uk.
Weighs only 20g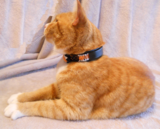 PawTrax will soon be releasing a device called PeopleTrax.
PeopleTrax is a small GPS tracker, that looks like a small USB memory stick.
It weighs just 23g and is small enough to hang from a lanyard or put on a keyring.
Complete with SOS button and 'eavesdropping'  function. Can be fitted with a PAYG sim (approx 1000 location upadtes for 5p)