The worlds smallest and lightest GPS cat collar is now available from PawTrax.co.uk.
Weighs only 20g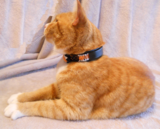 Expected end May, early June.
The smallest and lightest real time GPS cat tracker – weighs only 23g.
Looks like a small memory stick.
Firmware exclusive to PawTrax to give you the most accurate location.
We having been testing this unit over the last few weeks. It was placed inside two boxes and then in the rear footwell of a 4 x 4 and it still came back with a location