Archive for the 'News' Category
The worlds smallest and lightest GPS cat collar is now available from PawTrax.co.uk.
Weighs only 20g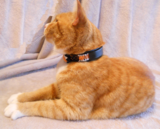 We will be introducing our new GPS cat collar at the Supreme Cat show at the NEC.
It won't be available for sale at the show we are there just to let cat owners know that this new product will be ready for market very soon.
Small, light and low profile.
Coming soon.
The PawTrax Halo
Keeping track of your little Angels
This is the replacement for the very popular Micro which is no longer available.
This new locator/tracker has been specifically designed for cats, although it could also be used for small/toy dogs.
It is sleek and low profile, being just 8mm at its thickest point.
Curved to follow the cats neck and will flex in the middle for added comfort.
With a reported 3000 cats going missing every week in the UK we felt that the primary function should be to locate your cat on demand.
This is easily achieved using your mobile phone. The PawTrax will send you a text message with a Google map link.
You can then, if required, switch it to tracking mode and track at intervals determined by you for viewing on the optional web platform.
Whilst it's fun to track your cat every minute 24/7 is it a 'top of the list' requirement? A study of 3000 cats revealed that on average a cat only roams as far as 130m from home. 52% spending most of their time in the house/garden.
The collars we are planning to supply with the Halo can easily be adjusted to length and are made from a very light, soft and comfortable material which stretches along its whole length. and according to customer reviews, making them one of the safest collars on the market.
They will come in various designs and colours, some glow in the dark, but other collars could be fitted.
We are also planning to make the PawTrax Halo available in various colours to order.
If interested email info@pawtrax.co.uk and we'll keep you up to date or follow us on Facebook
GPS Tracker for dogs.
Waterproof with almost 2 weeks standby and 48 hours tracking with 30 secs updates. Check out the website www.pawtrax.co.uk.
Some of you I am sure will have seen in the press recently the Tagg GPS tracker.
It is important to note that this tracker will not work outside the USA.
Our PawTrax S does the same job, is smaller and lighter and works in the UK with a 2G compatible sim card.
It works with a PAYG sim, which we can supply,  and does not require any subscription.
With the optional Android/iPhone app all of the functions can be controlled – alternatively just send it specifically formatted sms messages.
With the optional GPRS web based mapping platform you can set up any number of geo-fence alerts.
At the moment its on offer at just £85
Molly is now lying in her favourite place by the log fire.
She spent last night out in the open after running away when friends were looking after her.
We were struggling to get a location from her Pawtrax but thankfully Peter Callaway came to our aid and helped us get the GPS working.
As soon as we had a location we headed straight out to find her and the location was spot on.
Molly was all entangled in deep Bracken well away from from any path and would never have been found if it wasn't for her tracker.
I would encourage any dog owner to buy one and get Pawtrax to set it up for you.
Without it we would have no Molly!!!
Karen (Manchester)
The PawTrax S for cats & dogs is now available from our website.
Four colours – yellow, black, blue and grey
Introductory price of only £85
We have called this new device the S for Simple.
Simple to charge……
Simple to setup……
Simple to use……
Its waterproof and battery can last up to 100 hours on standby.
Locate on demand or track at intervals as frequently as 20 seconds.
Avaialable in Yellow, Black, Blue or Grey
We have been supplying GPS trackers for owners to track their pet cats and dogs for several years.
We often get aksed if it's possible to use our devices to keep track of people, such as elderly relatives who might wander etc.
Well we decided to bring out a new tracker specifically for tracking people.
It has many more functions, such as 2 way calling and person down alert and a battery life of 200 hours.
You can track by requesting a location via sms or live on the web platform
Check out our website for further details www.peopletrax.co.uk